Woman claims sexual abuse by priest, cover-up by bishop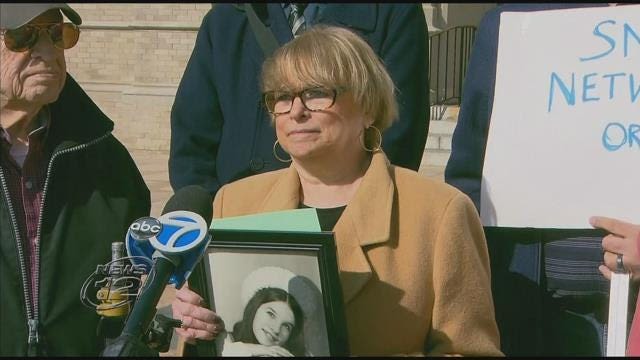 Catholic Church leaders from around the world gathered at the Vatican Thursday for the start of a four-day summit on child sex abuse. The meeting comes as a Nassau woman claims she was abused by a priest and believes she has proof the late Bishop John McGann covered it up.
Standing in front of St. Agnes Roman Catholic Cathedral in Rockville Centre, Janet Klinger, of Plainview, said she was abused in 1968 by Msgr. John Mott. It was the first time she spoke publicly about the alleged abuse.
Klinger says the alleged abuse took place at St. Pius X Church in Plainview. She says the monsignor was a close friend of her parents, often having dinner at their home. She says she was a young teen at the time and active in the church.
"I sang five Masses at St. Pius and that's what attracted him," Klinger says.
At 14 years old, Klinger claims Mott would call her to come hang decorations in the church or go over music -- anything to get her there alone. She didn't want to go into detail but says he sexually abused her numerous times over the course of a year until he was transferred to another parish.
In 1995, Klinger's father wrote a letter to McGann, telling him of the allegations and asking him to remove Mott from the church. Klinger says McGann responded back in a letter and said that multiple women came forward with claims of improper conduct from Mott.
Klinger says McGann's letter also stated Mott was sent for psychological testing and was found "fit to resume work as a priest." McGann also called Mott "a good man and a good priest."
Klinger says it broke her heart and that she still hasn't recovered.
The diocese issued a statement that says it has not seen the allegations on this matter.
Earlier this week, News 12 reported that two women claim Bishop McGann sexually abused them in the 1960s.